The self-tacking jib on my Hanse 371 has 3 vertical battens which allow it to have some roach, and thereby gain some extra area. The batten openings face down and battens are inserted from the bottom.
This works well, and the boat sails to windward with impressive pointing ability and tacks in well under ninety degrees with just a turn of the wheel.
The problem is, three times the top batten simply disappeared. When I took down the sail to change to the Genoa, the batten just wasn't there. The battens are held in with Velcro, They are about 3/4″ (18mm) wide, and slide into a pocket about 1″ (25 mm) wide. The Velcro strip is pushed in with a fiberglass batten pusher then squeezed by hand to secure it.
When the batten disappeared, the Velcro was still fully engaged. I puzzled over how the batten could escape without disturbing the Velcro. Ultimately, since I could think of no other explanation, I concluded that the batten had simply slipped out through the tiny gap at the side of the Velcro, while the sail was flapping during a tack.
Then the question which occupied me was how to prevent this happening, I thought of Duct taping over the end of the batten pocket, but decided that was the sort of thing my father would have done. It might work but was inelegant at best.
I put my brain to work and came up with what I thought was a foolproof solution. I would drill a hole in the end of the batten, and tie a loop of light cord through it. When installing the batten, I would pass the Velcro strip THROUGH THE LOOP. This would make it impossible for the batten to escape unless the Velcro lost its grip and slid out of the pocket, something that had never happened before.
Confident in the result I followed the plan. I drilled a small hole in the outer end of each batten. Then I tied a loop of light Dacron cord through the hole, as illustrated.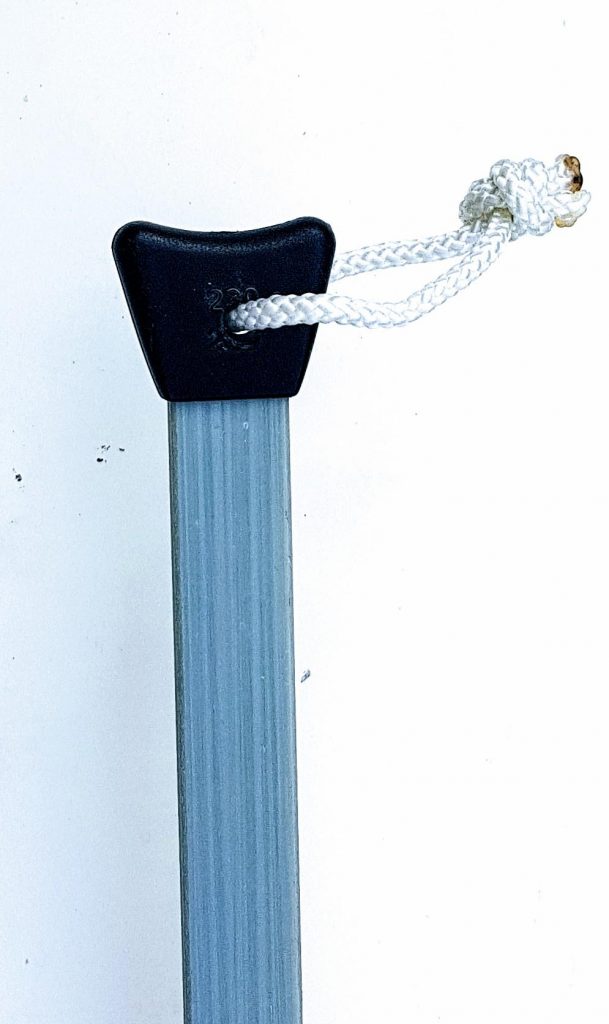 When installing the batten I passed the retaining strip with the Velcro through the loop. Then I inserted the batten fully into the pocket and pushed the Velcro in with the batten pusher,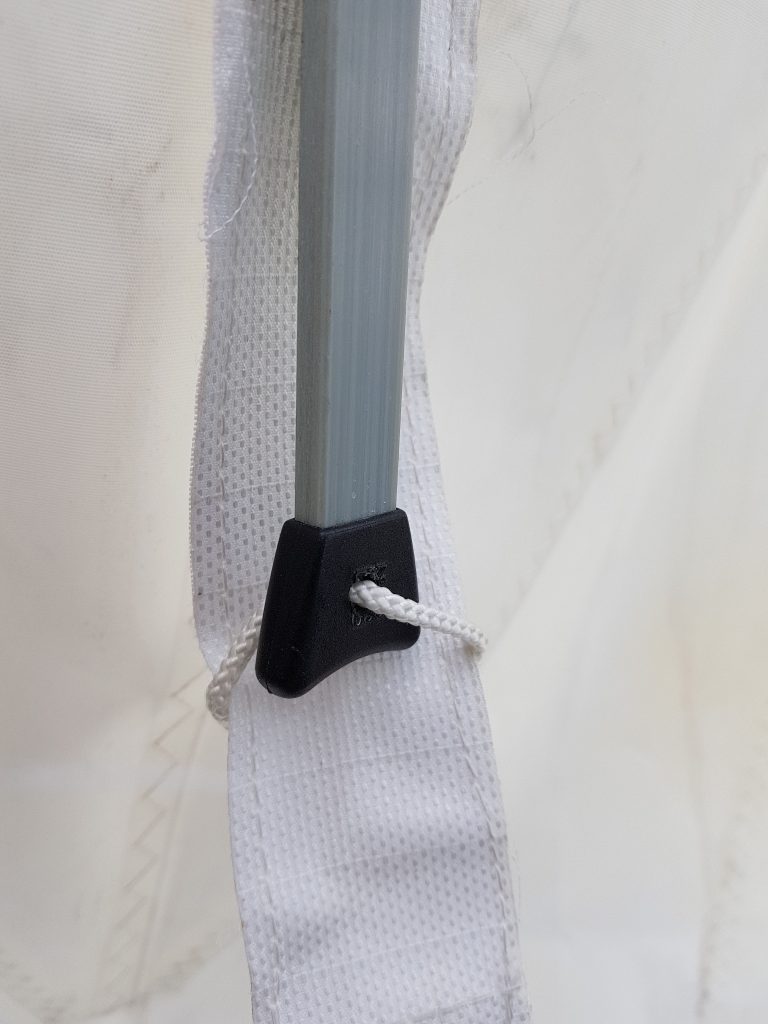 Unlike many of my "brilliant" ideas this one seems to have worked perfectly. It has been a year now since I did this, and the sail has been on and off several times with never a missing batten. I consider this 100% successful until proven otherwise!